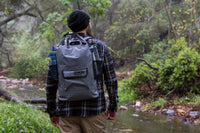 Always be Chaos Ready with our 100% Waterproof Backpack
The 22L main compartment is class 3 Waterproof With protection from quick submersion. Protecting all of your belongings from any water damage. 
This submersible bag will also float on top of any Water Surface.
Made from heavy duty 500 PVC Tarpaulin allowing a lightweight waterproof foldable backpack. It can handle whatever you or life may throw at it.
Socially Verified! Checkout our reviews. Over 500 5 Star reviews across our ecommerce channels.
"This backpack totally exceeded my expectations. Went on several "very wet" hikes on Maui and all of the gear I needed to be dry was totally dry. Not a better pack for the money."

Justin S
"Sights are solid as can be. Why pay 75 plus when you can buy Chaos Ready? springs work great, zeroing is easy, and they stay on my rail without loosening. What else do you want? These irons are the way to go."

Amazon Reviewer
"I bought this backpack in July, and used it while kayaking in the ocean. Unfortunately, our kayak had a hole in it, and we capsized MULTIPLE times. Throughout the entire journey, all of our valuables were safe and secure in this bag. It was the most affordable waterproof bag, and the backpack structure made it very easy to carry it around. I have started to use it as my everyday pack."

Pete